Duplicate, perhaps, your post?
…order to dilute the related swimwear- tell us about your experience building dynamic backlight for the TV. enough to do muska Habr
The main part backlight is the led strip- so it was decided to bring in the title. although the building was attended by just over components.
No photos. But there are links..)
If you wanted to tie the backlight to its неPhilips TV, but were afraid to try- try. it's easier than it seems.
For starters a small video of the result.
At the moment – the backlight works still pricline- in the settings exhibited greater brightness and higher refresh rate, now in action movies or scenes in the club (when the frame strobe flashes) – the whole wall just explodes with light
as was done- simply:
Raspberry PI +
WS2801 +
Hyperion +
Little courage=
Ambilight
More detail on items:
1 Malinka I at that time was already. Bought it on Amazon, but I think there origin is not important- the fee is standardized and you can buy absolutely anywhere- the main thing is not advised to take BU. I have after a certain amount of time of operation at maximum frequency without additional radiators start to podslushivaet. blamed on overheating, but it could be stupidly marriage production. Raspberries are extremely sensitive to power supply- so just stock up on normal PSU with low ripple… (and not to prosaically under load)
2 Actually tape. How it works I think quite well seen in the video. in the ribbon, nothing special- cut off pieces that had exactly 3 sides of the TV. patpal pieces of wire bend space (originally made the connection connectors, but quickly enraged that stick pieces of wire very long- all cut and soldered small lengths)
3 is a Genius program Hyperion. Set on raspberries (I have as OS, OpenElec is a multimedia) instructions for idiots. turned even me the first time. In the process – stupid captures color data edges of the screen, averages and sends control signals to the led strip. Tape perepisyvatsya all the colors of the rainbow, the audience loved it. In the process, when playing fullHD weighing gigs in 30 additional load on % is 5-10 %. The speed is not affected in any way.
The result- exceeds all expectations:
at a density of 30 LEDs per meter- all the wall with televizorom (the removal of about 10-15 centimeters) painted in the colors of the screen. visually, the scene is expanded…. well, as much as there is this wall. delays in transfer -no. at least impossible to track by eye. all smoothly and clearly. For a smartphone has a cool program which allows you to transfer lighting in lounge mode- to exhibit the desired colorbrightness, or you can run one of the available patterns (the type of running red light, or just rainbow, or, for example, color transitions).
If you disable the backlight while watching cartoons daughter is outraged and demands to return all back.)))
well, in order to comply with policy MySKU -actually about circuits:
led strip light – overlooked many times. I got exactly the same. Very good. the quality is excellent. displays if memory serves – 16 million colors. not exactly counted. requires additional power supply – hung plus or minus on block 5V 2A for 2 meters is more than enough. I think enough for 3 but guarantee I will not. Control contacts started on GPIO raspberries. according to the INSTRUCTIONS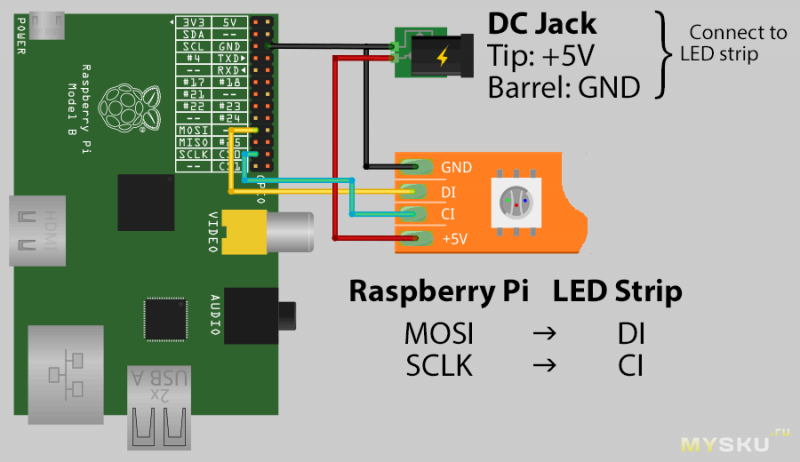 Malinka- single Board computer. Not overlooked just lazy. Amazing thing as for mastering the basics of Linux, and to build a minimalistic and flexible media centre. For me was the perfect option: scrolls any available me content, working as a receiver- okazyvaetes Internet TV, pretends to be an AirPlay receiver signal when you want to run something from your phone or laptop. Good thing- 3 watt and a lot of fun + support HDMI CEC out of the box- all controlled with a native TV remote.
Recommend
PS if suddenly someone decides to repeat this experiment, then for dessert- manual, how to make switch on / off the backlight with the TV remote.
PPS thought for a long time, whether to publish the article or not, but after review on power Jack for laptop and reprograme contact for the low beam bulbs have decided that it is time to change the tempo and to share at least this little experience. personally, I'm much nicer to read not just reviews of Chinese garbage, and how to apply it to create something cool. I hope you found it interesting. Questions write in comments I will try to answer promptly. (if the administrator does not remove)
And finally a video after:
wall color- pistachio, settings have not changed and will not. so give a little color to green. I like it and your opinion I do not care )